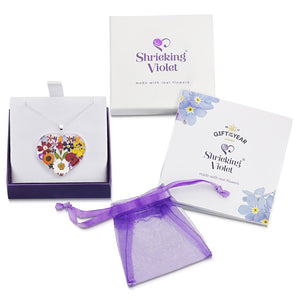 Shrieking Violet
---
Shrieking Violet jewellery is hand-crafted with sterling silver & tiny little flowers which are encapsulated in resin. Their head gardener keeps a watchful eye on the flowers, tending them with love (& water) until they reach the perfect size. They are then carefully picked, preserved & arranged in to beautiful creations to be worn as jewellery.
Their flower jewellery collections include rose, poppy, forget-me-not, daisy, heather & even four-leaf clovers featured in necklaces, pendants, earrings and bracelets.
All jewellery comes in a stylish gift box, making the perfect gift.